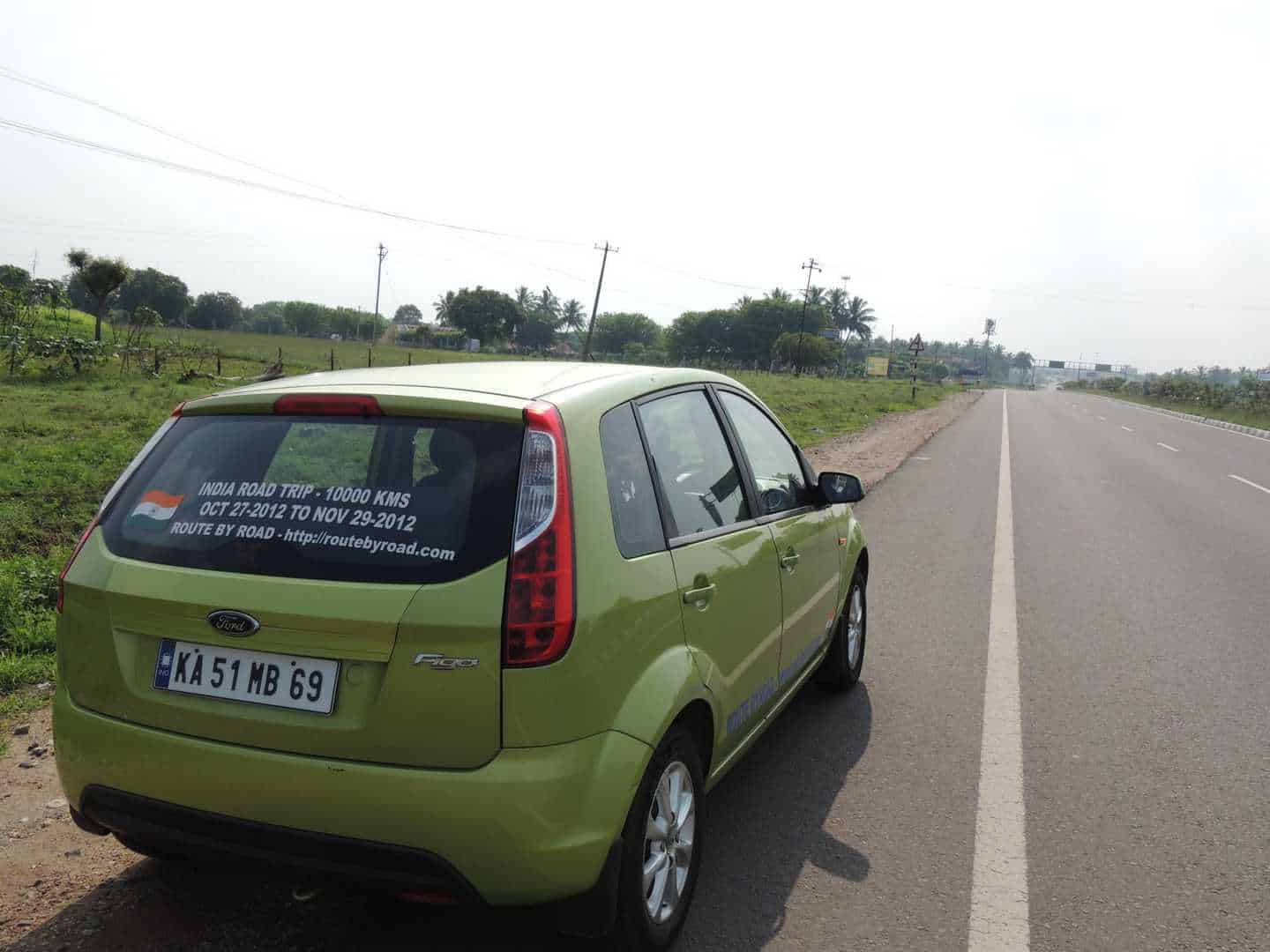 It was a whirlwind of a day on October 26, 2012 – the day before I set off on my journey. After wrapping up some last-minute office work and finishing packing by the wee hours of the morning, I woke up feeling a little groggy. But, I was determined to make it to Rameshwaram, so I hit the road at 10:00 AM on October 27th. With 630 kilometers to cover, I knew I had to make it there in one go if I wanted to keep my hotel booking chain intact. So, I skipped lunch and drove non-stop for 12 hours. I did take a quick break to snap some pictures of my car on the road, but other than that, it was pedal to the metal.
But, I wasn't alone on this journey. My trusty Intel-powered XOLO X900 smartphone was there to capture all the action using the Bambuser app. It even helped guide me with Google Navigation, all while capturing hours of live video and transmitting it to the internet. And, despite all that multitasking, the smartphone never once threatened to power off.
The drive itself was relatively smooth, and my hatch back Ford Figo handled it like a champ. It's the perfect car for long drives – comfortable, spacious, and able to handle rough terrain. It even seemed to thrive on bad roads and odd scenarios.
As I made my way to Rameshwaram, I passed through the bustling city of Madurai. It was a busy little place, but I managed to navigate it with the help of my Android Navigation. And speaking of navigation, I did run into a bit of a hiccup about 45 kilometers before Rameshwaram. My navigation led me down a remote road, but I was saved by some friendly locals who guided me back to the State Highway.
A few helpful hints for fellow travelers embarking on the Bangalore to Rameshwaram journey: Just before Salem city, you'll come across a fork in the road where a left turn will take you to Coimbatore and a straight ahead will lead you to Madurai. The expressway from there to Madurai is a dream to drive on, and you can easily cruise at 120 Kms per hour. But, just before reaching Madurai city, there's a tricky diversion where a right turn will take you to Dindigul and a left turn to Madurai. It can get a bit confusing in the city, but with a trusty navigation system like Android Navigation, you'll be able to navigate like a pro. And once you hit SH87 from Madurai, the roads are reasonably okay all the way to Rameshwaram.
Finally, I arrived in Rameshwaram, checked into a cramped motel near the temple, and prepared for my visit to the temple in the morning. And, let me tell you, the views were worth it. But, that's a story for another day. Next stop: Palakkad, Kerala.
Related Images: